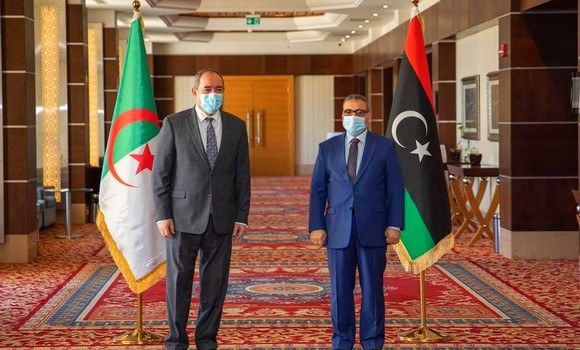 The Minister of Foreign Affairs Sabri Boukadoum was received along with the Minister of Interior Kamel Beldjoud by Libyan Prime Minister Abdelhamid Dbeibah during a working visit to Libya on Monday 19th April.
On this occasion, the two parties agreed on the need for the continuation of cooperation and consultations in order to face the dangers which threaten the region, such as terrorism, cross-border organized crime, drug trafficking, arms smuggling and illegal immigration.
As part of their working visit to Libya, M. Boukadoum and M. Beldjoud met with senior Libyan officials including the President of the Presidential Council, Mohamed El Manfi and two members of the Presidential Council, Moussa El Kouni and Abdallah Ellafi. They were also received by the President of the High Council of State, Khaled El Mechri.
576 total views, 1 views today