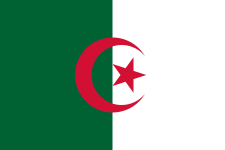 People's Democratic Republic of Algeria

Capital:
Algiers
Independence:
July 5, 1962
National Day:
Anniversary of the Revolution-November 1st (1954).
Constitution:
Constitution revised on 2nd November 2020.
President:
The President is elected for a five year term by direct, secret and universal suffrage.
Parliament:
Bicameral:
The Council of the Nation
The National People's Assembly
Language:
Arabic and Tamazight are the national and official languages.
Population:

43.9 million as of 1st January 2020

Religion:
Islam is the religion of the State.
Currency:
Algerian Dinar (DZD) = one hundred centimes.
Local Time:
G.M.T. + 1
Telephone Code:
213
Area:
2 381 741 Km²
Main Cities:
Algiers – Oran – Constantine – Annaba – Setif
Territorial Entities:
The Territorial Entities are the "Commune" and the "Wilaya."

The Wilayate (provinces) are 58:

Adrar – Chlef – Laghouat – Oum El Bouaghi – Batna – Bejaia – Biskra – Bechar – Blida – Bouira – Tamanrasset – Tebessa – Tlemcen – Tiaret – Tizi Ouzou – Algiers – Djelfa – Jijel – Setif – Saïda – Skikda – Sidi Bel Abbes – Annaba – Guelma – Constantine – Medea – Mostaganem – Msila – Mascara – Ouargla – Oran – El Bayadh – Illizi – Bordj Bou Arreridj – Boumerdes – El Tarf – Tindouf – Tissemsilt – El Oued – Khenchela – Souk Ahras – Tipaza – Mila – Aïn Defla – Naama – Aïn Temouchent – Ghardaia – Relizane – Timimoune –Bordj Badji Mokhtar – Béni Abbès – Ouled Djellal – In Salah – In Guezzam – Touggourt – Djanet – El M'Ghair – El Menia.


———————————–
Geography:

Located in North Africa, Algeria is bordered by the Mediterranean Sea on the north, Morocco, Western Sahara and Mauritania on the west, Mali and Niger on the south, and Libya and Tunisia on the east.


Climate:
Mediterranean in the costal areas.
Semiarid in the mid-South.
Arid in the South.



Travel Information
Visa
Foreign nationals must apply for a visa to visit Algeria. Visas must be obtained in advance from Algerian embassies or consulates. There are five main types of visas: tourist visa, business visa, work visa, family visa and press visa. Please read the instructions before applying for a visa.

Vaccine
No vaccine is required to travel to Algeria.

How to reach Algeria
Algeria can be reached by air, sea and land. There are a great number of flights linking Algerian cities to several destinations in Europe, The Middle East, the Maghreb, West Africa, Asia and North America. Flights to Algeria are run by National Airlines such as "Air Algérie" and by other major airlines, including British Airways, Air France, Lufthansa, Turkish Airlines, Qatar Airways, Emirates, Air Canada, Egypt Air and Tunis Air. The major airports are Algiers Houari Boumediene Airport, Oran Ahmed Ben Bella airport, and Constantine Mohamed Boudiaf airport.

Getting around Algeria
There are several forms of public transportation in Algeria. The most popular include buses, operated by private and public companies, at affordable prices and Taxis. Equivalent of Uber taxis are available in Algiers and several cities through the apps Yassir, Temtem, Coursa and many others.
Railway services are provided to passengers 7 days a week including public holidays. Destinations runs from and to a range of cities and towns, namely Algiers, Annaba, Oran, Bejaïa, TiziOuzou, Tlemcen to name but a few. For more information please visit the SNTF website .
Currently, tube services (metro) are only available in the capital city of Algiers. There are two main lines operating in Algiers and its surroundings.
Tram services are available in Algiers, Oran, Setif, Constantine, Sidi Bel Abbes and Ouargla.
Air transport remains the fastest way to connect the country's cities. Domestic routes are run by Air Algérie and Tassili Airlines, which offer flights to 32 cities.

Hotels
Hospitality infrastructure is rapidly growing in all Algerian cities. There are several famous chain hotels in big cities like: Sheraton, Marriott, Four Points, Meridien, Radisson Blue, Sofitel, Holiday Inn, Golden Tulip Royal, Best Western, Novotel, Ibis and Mercure. Several international and local groups have recently invested in hospitality giving added value to this sector. Currently, Algerian cities accounts all ranges of hotels, from luxurious to affordable ones. Apartments for short stays can be rented through Airbnb application.

Money
Monetary unit in Algeria is the Algerian dinar (DA). It is possible to convert foreign currencies into Dinars at the official rate, the reverse being subject to conditions. It is required to declare foreign currency notes, means of payment, articles of value (gold, platinum or silver jewellery) imported into Algerian territory. Please note that Dinar can't be exported.

Taxes and Customs
Foreigners visiting Algeria are exempted from duties and taxes for personal effects and items that they need during their stay, excluding goods imported for commercial purposes. For more details please click here .
Useful information on customs for passengers arriving and/or leaving Algeria can be found here.
Discover Algeria
18,138 total views, 1 views today