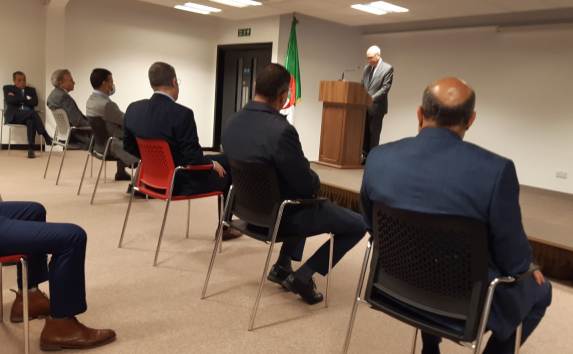 The Embassy and the Consulate General organised on the 7th of  July, a ceremony to celebrate the  59th Anniversary of Independence and Youth Day (5 July) with the presence of members of the Algerian community in the United Kingdom.
On this occasion, Ambassador Abderrahmane Benguerrah highlighted the significance of this day which marked not only the end of the glorious Algerian revolution from 1954 to 1962 but also the end of a brutal and inhuman occupation which lasted 132 years.
He added that the Algerian people achieved a monumental victory in an asymmetric war with the combination of a courageous military resistance, a dynamic diplomacy deployed worldwide and with the skills demonstrated by its leaders in the negotiations leading to independence.
Many historians consider the Algerian revolution as one of the most iconic but also the most brutal of the 20th century, with more than a million and half martyrs. It was also an extraordinary example of sacrifice and determination to the movements of liberation worldwide.
567 total views, 1 views today