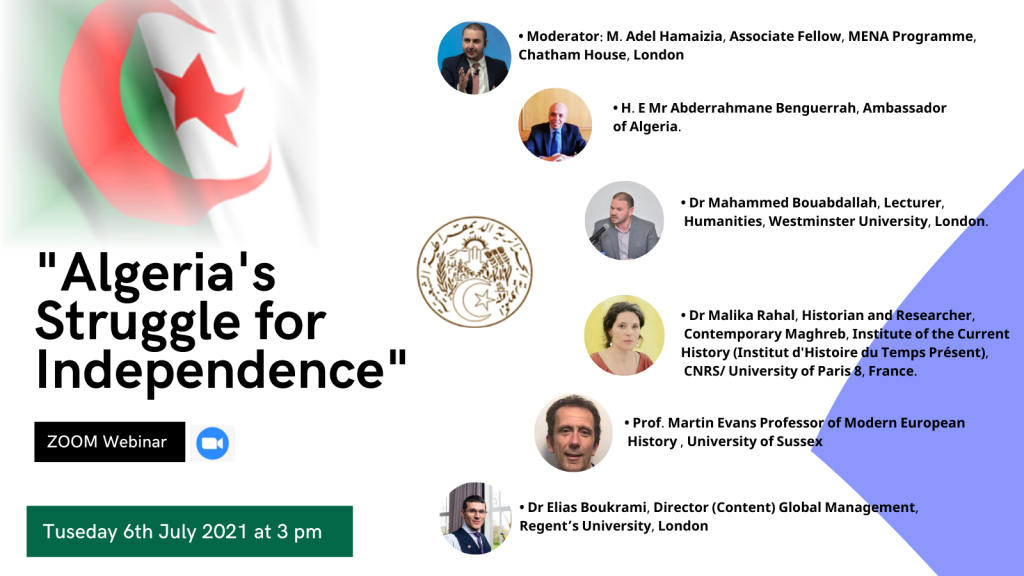 On the occasion of the celebration of the 59th anniversary of the independence of Algeria, the Embassy organised a webinar, on 6th July, entitled: "Algeria's Struggle for Independence".
The participants were: Mr. Abderrahmane Benguerrah, Ambassador of Algeria to the UK, Dr Malika Rahal, Historian and Researcher at the Institute of Current History (France), Prof. Martin Evans, Professor of Modern European History, at the University of Sussex, Dr Mahammed Bouabdallah, Lecturer at Westminster University, Dr Elias Boukrami, Director (Content) Global Management at Regent's University and Mr. Adel Hamaizia, Associate Fellow, MENA Programme at Chatham House, London (as Moderator). Were also present, members of the Algerian community in the UK and representatives from the academic institutions and the diplomatic missions in London.
In his opening remarks, Mr. Benguerrah recalled the main stages of the long Algerian struggle which led to the recovery of the country's sovereignty, highlighting the heroic resistance of the Algerian people.
The speakers examined the long struggle against French colonialism, notably the early popular revolts. Dr Mahammed Bouabdallah highlighted the role of Emir Abdelkader as the early military leader of the Algerian Resistance. Prof. Martin Evans insisted on the importance of the bloody demonstrations of 8 May 1945, which were a turning point in the history of the Algerian resistance that led to the armed Revolution of November 1st, 1954.
Dr Elias Boukrami stressed the role of the Algerian community abroad in supporting the revolution in terms of finance and in assisting in gainig international support. Dr Malika Rahal revisited the historical and joyful moments of the celebration by the Algerian people of their independence on 5 July 1962, which marked the culmination of a long and huge struggle.
694 total views, 1 views today