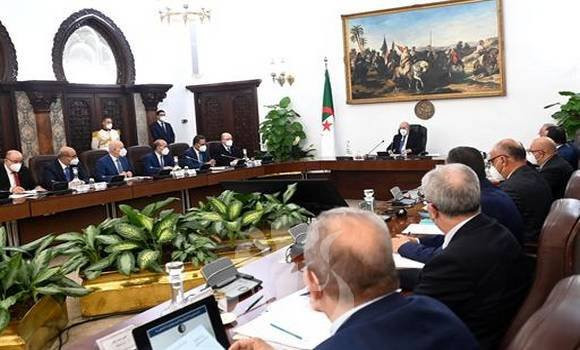 The Council of Ministers adopted Thursday at a special meeting chaired by the President of the Republic, Supreme Commander of the Armed Forces, Minister of National Defense Abdelmadjid Tebboune, the draft new law on investment, said a statement of the Council.
The draft of the new law on investment, presented by the Minister of Industry, provides a series of measures to implement the commitments of the President of the Republic to the improvement of the investment climate and ensure appropriate conditions to free initiatives and diversify the national economy under a comprehensive and stable vision that takes into account the principles of freedom of investment, transparency and equality, and under the provisions of the Constitution of 2020.
This vision also takes into consideration the reorganization of institutions working in the field of investment by focusing the missions of the National Investment Council (CNI) on the proposal, coordination, and evaluation of the implementation of national policy on investment.
Moreover, the new law on investment provides for changing the name of the National Agency for Investment Development (ANDI) to the Algerian Agency for Investment Promotion, and assigning it the "the role of promoter and support to investment through the creation of a single window with national competence for large-scale projects and foreign investment, and the creation of decentralized single windows for local investment."
The Agency will also be responsible for "fight against bureaucracy through the digitization of procedures related to investment, the creation of the digital platform of the investor and the immediate issuance of the certificate of registration of the investment project," said the same source.
After the presentation of the bill, the President of the Republic welcomed the new version adopted by the Council of Ministers after taking into account the comments and proposals raised during the debate.
Indeed, the new law on investment "provides further guarantees on the principle of freedom of investment and legislation to protect investors from bureaucratic abuses through the creation of an independent high-level mechanism, composed of judges and economic and financial experts. Placed under the Presidency of the Republic, this mechanism will be responsible for ruling on complaints and appeals filed by investors."
The recommendations include the placement of the Algerian Agency for Investment Promotion under the authority of the Prime Minister, the reduction of the import bill, and the imposition of maximum penalties to any person hindering, in any way, the investment operations, whatever his position or the nature of his responsibility, said the statement.
APS.
386 total views, 1 views today