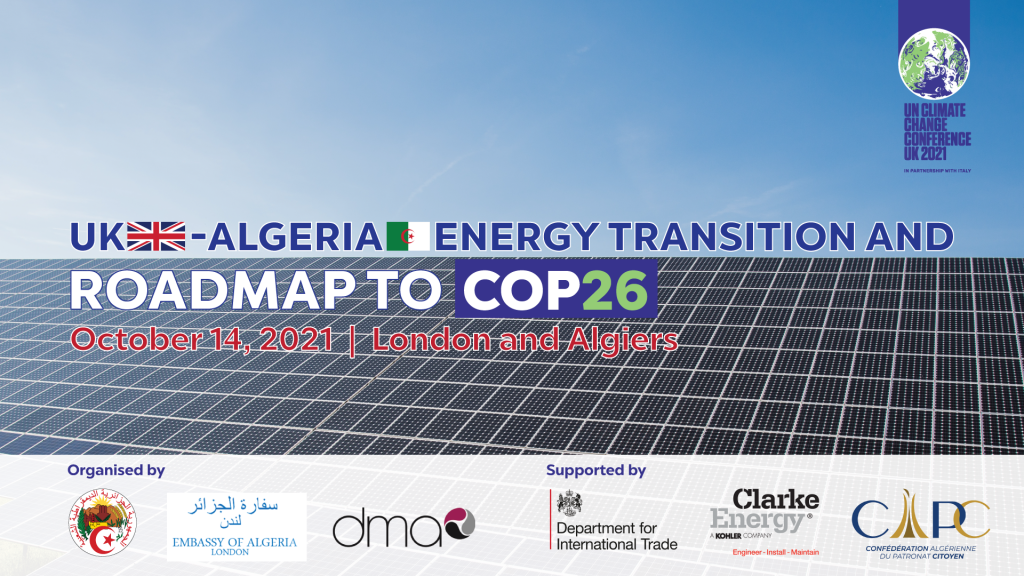 A business meeting on "UK-Algeria Energy Transition and Roadmap to COP26" was jointly organised by the Algerian Embassy in London, Developing Markets Associates (DMA) and the British Embassy in Algiers, on 14th October 2021. The event was held on a hybrid format (in person and online).
Among the participants were: Mr. Abderrahmane Benguerrah, Ambassador of Algeria to the UK, Ms Sharon Wardle, UK Ambassador to Algeria, Lord Richard Risby, Prime Minister's Trade Envoy to Algeria, and officials from the Algerian Ministry of Energy Transition and Renewable Energy and the Ministry of Energy and Mines, President of CAPC and representatives from the Algerian and British public and private sectors.
In his opening remarks, Mr. Abderrahmane Benguerrah, who underlined "the good timing of this event", which is being held, few weeks before COP26, highlighted the efforts made by Algeria to promote the development of renewable energies and clean technologies.
In this regard, he outlined the ambitious national program aiming at rationalizing energy consumption in all sectors, the establishment of research centres in the field of energy and environment and the creation of a national renewable energy development program with the objective of producing 15,000 MW of electricity by 2035.
In their statements, Lord Risby and Ms Sharon Wardle welcomed Algeria's willingness to contribute to the global effort in the fight against climate change and expressed their country's readiness to establish a bilateral partnership in this area.
In addition to the presentations made by representatives of the named above Algerian Ministries, operators from both countries discussed business opportunities, in interactive sessions, in the fields of renewable energies and clean technologies.
750 total views, 1 views today