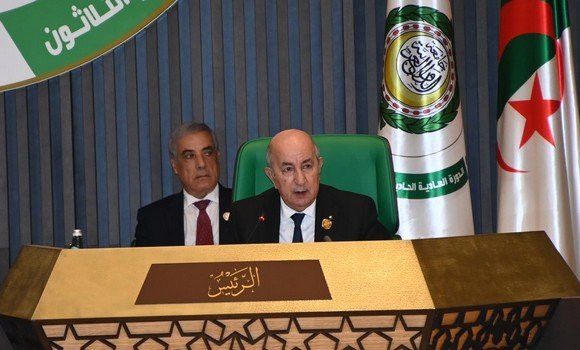 The President of the Republic Abdelmadjid Tebboune affirmed Wednesday – 2nd November, that the Arab Summit, held in Algiers, constituted an important milestone in strengthening the Arab solidarity.
In his speech at the wrap up of the 31st Arab Summit, at the International Center of Conferences (CIC) in Algiers, President Tebboune pointed out that "this Summit constituted an important milestone in strengthening the Arab solidarity in order to protect our common interests and work within a united group, strong with its capacities and resources, in order to play a key role on the regional and international scenes."
In this regard, President of the Republic welcomed the spirit of fraternity and understanding which prevailed during the works of the Summit, pointing out that this spirit "enabled examining the situation in the Arab region and our regional landscape, as well as on the international scene."
The Summit enabled also taking "several important decisions able to deal with the Arab citizens' concerns and meet their legitimate aspirations," he stressed.
The ambitious decisions of Algiers Summit "encourage us to step up efforts during our chairmanship of the Council, to ensure the implementation of what was agreed upon," said the Head of State, stressing that "the spirit of understanding and solidarity which prevailed during this Summit encourages us to move forward in the achievement of our common objectives."
President Tebboune thanked all the participants in this major Arab meeting for "their valuable contribution to make Algiers Summit successful and an opportunity to strengthen solidarity and unite the Arab ranks on the occasion of the commemoration of the anniversary of the outbreak of the Revolution of 1 November 1954."
APS.
323 total views, 1 views today