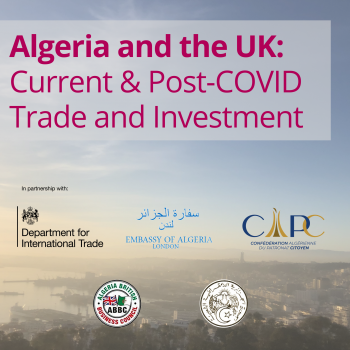 A video conference entitled: "Algeria and the UK: Current and Post-COVID Trade and Investment" was held on 30th September 2020 in collaboration with the Developing Markets Associates and the Algerian-British Business Council.
Among the participants at this conference were: Mr. Ferhat Ait Ali Braham, Algerian Minister of Industry and Mines, Lord Grimstone of Boscobel Kt, Minister of State for Investment, Department for International Trade, Lord Richard Risby, the Prime Minister's Trade Envoy to Algeria, Mr. Abderrahmane Benguerrah, Ambassador of Algeria to the United Kingdom, Mr. Barry Lowen, British Ambassador to Algeria, Lady Olga Maitland, Chairman of the Algerian-British Business Council and representatives of the Algerian Ministries of Trade, Pharmaceutical industry, Mico-Enterprises and Agriculture as well as the National Agency of Investment Development (ANDI).
On this occasion, Mr. Ferhat Ait Ali, Minister of Industry and Mines, addressed the reforms undertaken by the Algerian Government to support the private sector and the FDI, such as the removal of the 49-51 rule and ensuring a more transparent and attractive business environment.
The participants welcomed the ongoing reforms in Algeria which they described as "positive" and "promising" for the strengthening of the economic partnership between Algeria and the United Kingdom.
In his closing remarks, Ambassador Abderrahmane Benguerrah provided insight into Algeria's vast investment potential and invited British businessmen to take advantage of the new investment incentives recently introduced by the New Government.
478 total views, 1 views today