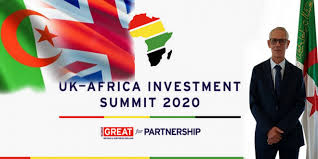 A delegation led by the Minister of Industry and Mines, Ferhat Ait Ali Brahem, took part in the UK-Africa Investment Summit held on January 20 in London.
The members of the Algerian delegation, comprising senior officials from the Ministries of Foreign Affairs, Industry and Mines and the Environment as well as leaders of national public and private companies, participated in the work of the four workshops set up for the Summit: "Sustainable finance and infrastructure", "trade and investment", "African opportunities and growth" and the "clean energy transformation".
During his stay, Mr. Ferhat Ait Ali, met with M. Graham Stuart, Minister for Investment, M. Andrew Murrison, Minister of State for the Middle East and North Africa, as well as M. Conor Burns, Minister of State at the Department for International Trade, for discussions on the state of relations between the two countries, and ways and means to further strengthen and diversify bilateral cooperation in areas of common interest.
323 total views, 1 views today