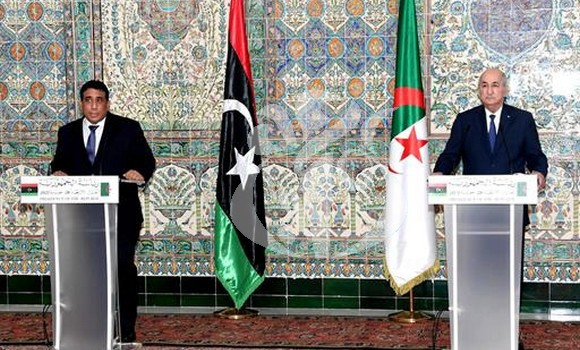 The President of the Republic, Abdelmadjid Tebboune, received, on Wednesday 28 July 2021, the President of the Libyan Presidential Council, Mr. Mohamed Younes El-Menfi. On the occasion of this visit and in a statement to the press, President Tebboune outlined the many decisions agreed upon during his meeting with his Libyan counterpart relating to issues currently faced by Libya.
He stated that Algeria "is at the disposal of Libya" emphasizing that "we share no ambition or vision except that which the Libyans have for their country", and that Algeria "shall abide by the decision the fellow Libyan brothers will take regarding the current situation of their country", adding "we are in agreement with them on this".
President Tebboune recalled the initial position of Algeria vis-à-vis the situation in this neighboring country, stating that this position is "currently accepted at the international level". He added that "in order to ultimately resolve the crisis in Libya, elections should take place giving, thus, more legitimacy to the National Council and the President".
President Teboune recommended the organization of a "double parliamentary and presidential election at the same time", reassuring the readiness of Algeria to help Libyans "make their country's voice heard".
In response, the President of the Libyan Presidential Council, Mr. El-Menfi, praised the warm welcome he received from President Abdelmadjid Tebboune, and addressed his thanks to the Algerian "government and people". In addition, Mr. El-Menfi put the emphasis on the shared "history and culture that bring together the two countries". He further recalled the suffering of the Libyan people, in order to maintain the integrity of their country.
On the "unreserved support" conveyed by the President of Algeria, Mr. El-Menfi said, "We are delighted with the full support expressed by the President of the Republic in favor of our efforts to achieve parliamentary and presidential elections, which will enable the Libyan people to choose their representatives for the coming period".
Moreover, Mr. El-Menfi indicated that his meeting with President Tebboune made it possible, among other things, to discuss the "technical aspects" related to the opening of border crossings, emphasizing "the importance of this issue to the Libyans".
He also mentioned that the meeting was an opportunity to look into further questions of mutual interest, namely "the security measures in the south of Libya, which concern the safety of both countries", adding that "President Tebboune called for absolute support to the Libyan people".
Mr. El-Menfi stated that his country "wishes to see, Algeria, fellow country, make a contribution to the Libyan national reconciliation, being one of the most important points of the political agreement, until the elections are held".
"We hope to establish an Algerian-Libyan technical cooperation as well as a bilateral security cooperation," indicated Mr. El-Menfi, stating that his country "has always been aware of the permanent support of Algeria to the Libyan people and their views, a support that President Tebboune reaffirmed".
674 total views, 1 views today